This hike will take you to one of St.George's favorite canyon viewpoints. I mean wow! Talk about vertigo-inducing! This overlook is absolutely breathtaking and invigorating. I was not prepared for what waited for me at the end of this trail. The hike is about 4.8 miles roundtrip and is fairly easy for even the most inexperienced hikers. It is dog and horse friendly as well!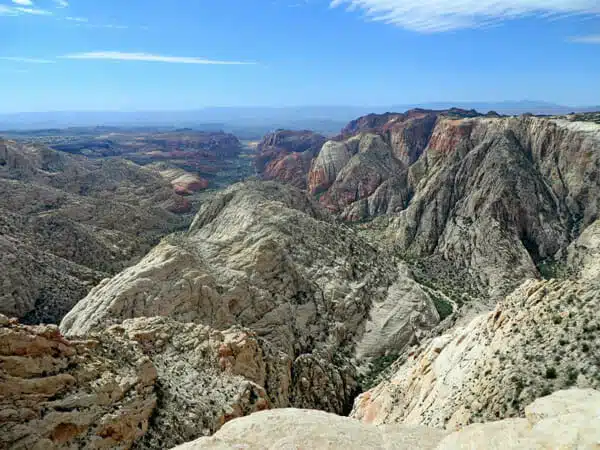 The head of the trail is located near Dameron Valley and on your way to Diamond Valley. The start of the hike will be the same starting point as the Red Mountain trail. For about the first mile you will find yourself surrounded by pinion pines and junipers. There is a forest feel to the hike as the trees get more and more dense around the trail. This portion of the hike climbs about 300ft in elevation, so prepare for a bit of a trudge.
The second mile of the hike is steady up and down and not quite as much of a climb. Suddenly at two miles in the hike sharply declines downward. At this point keep an eye out for the two cairns, this is the turnoff point to the overlook. The rest of the hike will be mostly sandy with one more quick downhill descent and then up to the other side where the stunning scenic overview lies.
At the cliff's edge you'll find yourself looking over Snow Canyon Park. The contrasting red and white sandstone mountains from above will blow you away. We highly suggest catching the sunrise if you are comfortable with hiking early in the morning when it's still dark.
https://www.templeviewrv.com/wp-content/uploads/2015/04/TempleViewRV-Logo-white.png
0
0
olwm
https://www.templeviewrv.com/wp-content/uploads/2015/04/TempleViewRV-Logo-white.png
olwm
2016-03-21 16:51:35
2019-07-16 19:36:26
Snow Canyon Overlook (the Red Mountain Trail)